TOC Europe – Rotterdam, Netherlands
Re-Connecting the Global Port and Cargo Supply Chain Professionals Face-to-Face Once Again in 2022
IPCSA is proud to be a partner at TOC Europe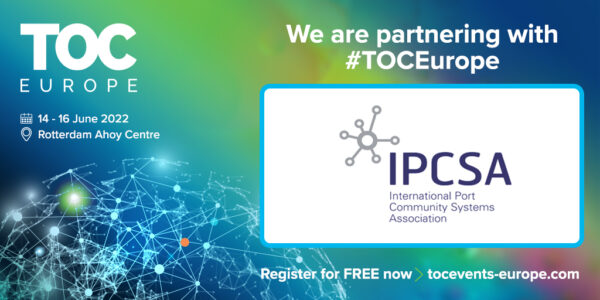 TOC Europe returns to Rotterdam after a two-year absence and we've been working hard to ensure you can rejoin your industry colleagues in-person to learn, debate and network from 14-16 June 2022
With an unrivalled 40+ year heritage, here is the place to learn from and network with the world's leading port decision-makers, policy experts, solution-providers and more underneath one roof, enabling you to both supercharge your strategies and make your port operation visions a reality.
Whether your focus is on adapting to the unpredictable economic climate and current shockwaves of the pandemic, or simply embracing the exciting new technologies revolutionising the sector, join us on the road back towards growth at the essential container supply chain event.

Join us at the most anticipated industry event in the calendar – as we enter an era of unprecedented change and opportunity, it's now time to get back to how business is done best – In-person, amongst thousands of port professionals, all in one place.
Be part of it, and let's rebuild the future of our industry, together.