Ports and Customs Webinar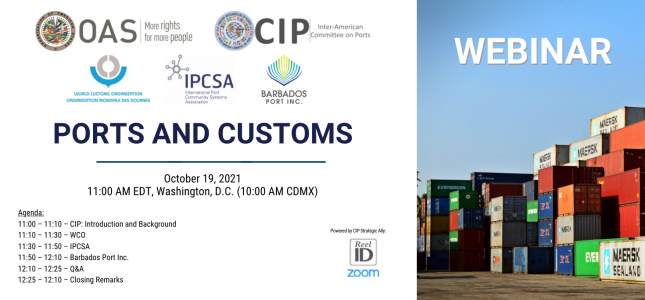 The Secretariat of the Inter-American Committee on Ports (S/CIP), dedicated to strengthening the technical capacities of port personnel in the Americas, and IPCSA are pleased to announce the upcoming Webinar on Ports and Customs on Tuesday, October 19, 2021, at 11:00 AM Washington, D.C. (10:00 AM Mexico City), agenda attached.
This Webinar will address key aspects and challenges of the working relationship between ports and customs, share best practices to improve communication, efficiency and how ports can support the role and responsibilities of customs and vice versa. High-level representatives from the World Customs Organization (WCO), the International Port Community Systems Association (IPCSA) and Barbados Port Inc. will participate with a presentation. The presentations will be followed by a Q&A session.