IPCSA – "Women in PCS and Single Window" – Webinar powered by TOC Worldwide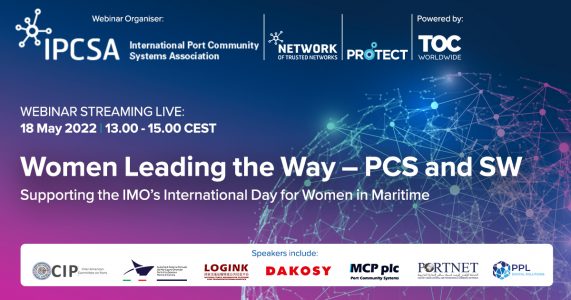 Date: 18 May 2022
Time: 13:00 CEST
Duration: 2 hours
Supporting the IMO's International Day for Women in Maritime
Maritime is historically a male-dominated industry, but there is a concerted effort across the sector to help it progress and support women, to achieve a representation more aligned with 21st Century expectations. 
The International Port Community Systems Association (IPCSA) is a strong supporter of equality in the workplace and its membership, representing Port Community Systems (PCS) and Single Window Operators (SW) have demonstrated that women can lead the way in the electronic exchange of information and in trade facilitation related to the maritime sector.
International Day for Women in Maritime, 18 May 2022
The International Maritime Organization Assembly adopted a resolution proclaiming an International Day for Women in Maritime, to be observed on 18 May every year.
The observance will celebrate women in the industry and is intended to promote the recruitment, retention and sustained employment of women in the maritime sector, raise the profile of women in maritime, strengthen the IMO's commitment to the United Nations Sustainable Development Goal 5 (gender equality) and support work to address the current gender imbalance in maritime.
IMO Secretary-General Kitack Lim said: "This day for women in maritime will further efforts to achieve SDG 5 on gender equality. It is a perfect follow-on action to the 2019 theme of empowering women in maritime and the Assembly resolution adopted in 2019. I am pleased that the Member States have joined in the call to achieve a barrier-free environment for women, so that all women can participate fully, safely and without hindrance in the activities of the maritime community, including seafaring and shipbuilding."
Thanks goes to TOC Worldwide for supporting this webinar and powering the Webinar