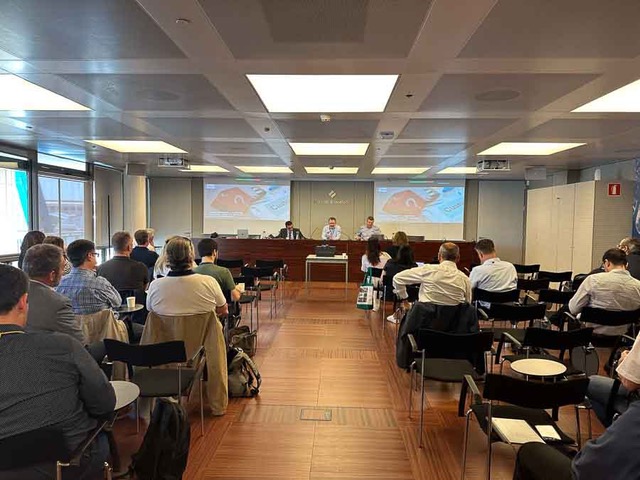 On 23th and 24th May Members of the International Port Community Systems Association (IPCSA) and other interested parties from around the world were gathering in Barcelona for two days of exchanging experiences.  We are proud that a great variety of IPCSA regions were represented including Europe, North America, Africa, and West Asia.
IPCSA's meeting was hosted by its Founding Member Portic in the World Trade Center in Barcelona and supported by the Port of Barcelona and IDOM. This hybrid meeting also allowed online participation for those IPCSA members not being or not able to be present in Barcelona.
IPCSA welcomed guest speakers from various organisations involved within electronic exchange of information across borders and throughout the whole supply chain including Spanish Shippers' Council, Digital Container Shipping Association, The European Technology Platform ALICE and others.
The meeting hosts Santiago Garcia, Portic/ VP Port of Barcelona and Javier Gallardo, Chairman of IPCSA and CEO of Portic, Barcelona opened this important event, highlighting importance of sharing and exchanging experience.
Topics covered included:
Digitalisation and Platform integration: The Shippers' View
a discussion panel on how to drive and boost innovation in port environments, and what this in the future could mean for PCS- and SW-operators
Practical applications of UN/CEFACT standards in maritime and ports
the European eFTI-regulation and opportunities and challenges for Port Community Systems
discussion forums on the topics of Helpdesk/customer support and Container release
The role of a Port Community System in the Physical Internet
DCSA vision and the role of shipping lines in standardisation,
and many other important topics for port community system and single window operators.
Javier Gallardo said: "We are having an exciting Agenda for two days and looking forward to taking IPCSA to the next level, expanding our membership and building on the strong reputation as an expert group, an effort that was uniquely pioneered and championed by IPCSA 's first Secretary General Richard Morton."
Nico de Cauwer, IPCSA new Secretary General said: "A major challenge for IPCSA will be strengthening our international relationships and ensuring effective collaboration with other organisations. Everyone talks about digitalisation, but we see many organisations working only inside their own domain and not thinking outside the box. IPCSA has always focused on the sharing of experience and expertise, with a strongly collaborative approach. We want to champion the development of practical, concrete collaboration projects with others in the industry."
We would like to highlight a very special and emotional moment of this meeting when the "IPCSA Richard Morton Recognition Award" was granted to IPCSA Ambassador Hans Rook.
The IPCSA Richard Morton Recognition Award is given to recognize professional achievement and continuous dedication to our community.  Richard is remembered by IPCSA members for his ability to bring people together, encouraging the sharing of experience and expertise for the greater good – and for creating the "IPCSA family" in which members also became friends.
IPCSA Chairman Javier Gallardo said: "I know no one else who deserves this award as much as our Ambassador Hans Rook. We will always remember and recognize his achievement and continuous dedication to our community and IPCSA Members. .
IPCSA would like to thank our exceptional meeting hosts Portic and Port of Barcelona for all hospitality and welcoming us into their home city Barcelona.
We would like to express our appreciation and gratitude towards all of the meeting guest speakers and truly valuable insights and perspectives they have provided.  It was a great experience to have them amongst us and share the common knowledge for a wider benefit of our community.
Our deepest respects are extended to our members for their active participation in the meeting, constant support for IPCSA activities and sharing of experience both in joint events and on daily basis. It would be not possible without you all, and it is highly valuable to all of us.
On a final note, we would like to highlight that all presentations for IPCSA Members will be available on IPCSA Community early next week.