Indian Ports Association wins DIGITAL INDIA AWARD 2020 in Exemplary Product Category for PCS 1x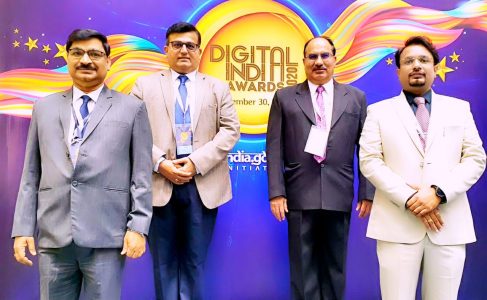 Adapting the 'new normal' and strategically implementing Government of India's vision  of Digitizing India, Indian Ports Association (IPA) understood its importance during the unprecedented COVID 19 pandemic. As the foundation of IPA is build on strong objective, to be an apex think-tank and to fuel the growth engine of maritime sector, even in this year of crisis IPA continued its shine by winning the most prestigious  National Award, DIGITAL INDIA AWARD 2020 in Exemplary Product category for PCS 1x – a National Maritime Single Window, under aegis of Ministry of Ports, Shipping and Waterways.
Shri Janardhana Rao, Managing Director, IPA, Shri Abhijit Singh, Executive Director, IPA, Shri Sudhir Kanvinde, Execuive Director (IT), IPA, Shri Rajiv Puri, Chief Administrative Officer, IPA represented IPA in receiving the award. Hon'ble President of India Shri Ram Nath Kovind graced the Award Ceremony and conferred the awards to the winners, in the august presence of Hon'ble Minister, MeitY, Hon'ble MoS, MeitY and Secretary, MeitY among other dignitaries.
'PCS 1x' has grown in scope and penetrated over the last year and a half with significantly better utilization. The PCS 1x has tripled the user base and reduced the turnaround time of (Customs) batch mode of EDI exchange from 30 minutes to under 4 minutes.  PCS 1x is designed in such a way that it not only caters 12 Major Ports but also other 200 Non-major ports of India. Government is constantly upgrading PCS 1x to make it the best in class globally.
Shri Janardhana Rao, MD, IPA said "I am happy that PM's vision of Digital India is being executed and IPA by the abled guidance of the MoPSW is contributing towards it. On behalf of IPA I thank everybody who guided and provided us relentless support in achieving this milestone and adding another feather in IPA's cap."
Notes to editors:
 About the Indian Ports Association
The IPA was constituted in 1966 under Societies Registration Act, primarily with the idea of fostering growth and development of all Major Ports which are under the supervisory control of Ministry of Shipping. Over the years, IPA has consolidated its activities and grown strength by strength and is considered to be a think tank for the Major Ports with the ultimate goal of integrating the maritime sector. http://www.ipa.nic.in/